For Jobseeker
For Employer
Employer Branding
Unveiling the Most Dynamic Recruiter with PT Bumi Amartha Teknologi Mandiri
Get to know PT Bumi Amartha Teknologi Mandiri
In the ever-evolving landscape of technology, businesses are constantly on the hunt for specialized talent to meet the growing demands of the industry. PT Bumi Amartha Teknologi Mandiri or as we call it Amartek, is a prominent player in this sector, is no exception, as they operate in the dynamic and fast-paced Information Technology (IT) industry. The IT industry is multifaceted, and each niche requires a unique set of skills and expertise. From fresh graduates entering the field to seasoned senior-level professionals, PT Bumi Amartha Teknologi needs a diverse range of talent to cater to their clients' varying needs.
Thankfully, Kalibrr has been trusted since 2019 to become the main partner of Amartek to ensure the success of the hiring process for prospective candidates. Amartek''s strategy in using Kalibrr has proven successful in meeting talent needs so far. In addition to the victory obtained by Amartek who was named Most Active Recruiter in Q3 2023; sending over more than 1000 invites and the most interesting thing; 25% of these candidates accepted the invitation from Amartek.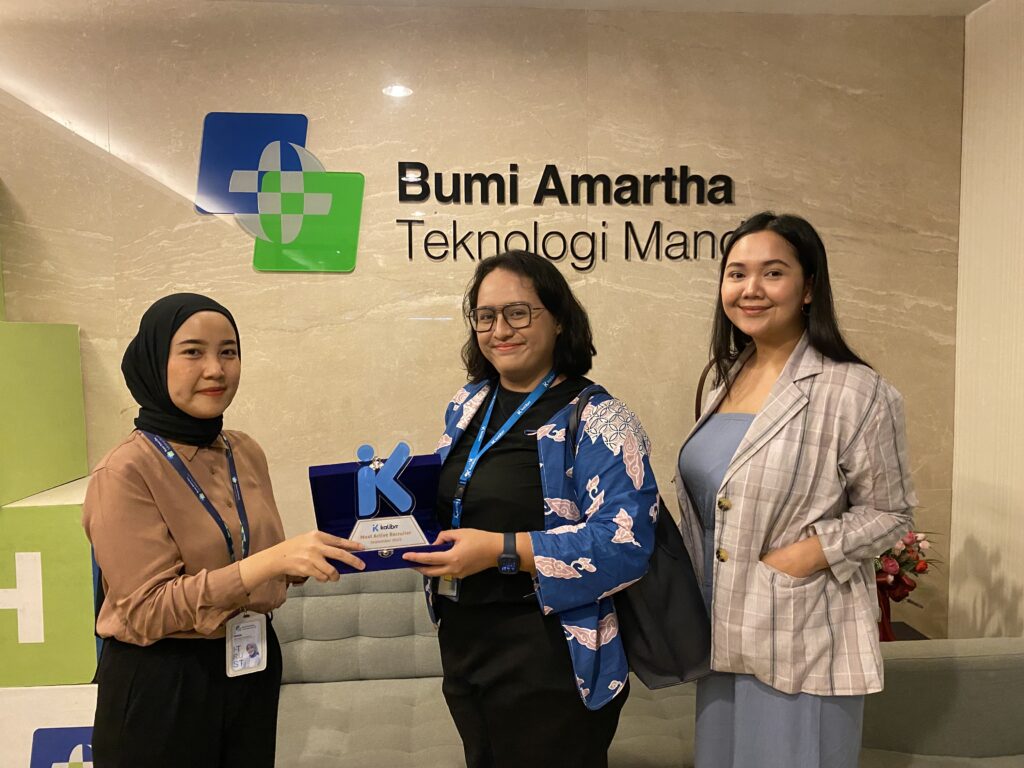 Spotting Remarkable Talent in a Pool of Outstanding Candidates!
In their pursuit of specific talent, Amartek adopts a dual strategy, actively seeking both fresh graduates and senior-level professionals. This approach reflects their recognition of the importance of a diversified talent pool. Fresh graduates bring fresh perspectives, and a readiness to learn, injecting innovation and energy into the team. On the other hand, senior-level professionals contribute experience and a wealth of knowledge. 
Furthermore, the Resume Search tool from Kalibrr is an additional effort that really helps Amartek in the recruitment process to cover both strategies. Amartek team can take proactive steps to approach potential candidates and invite these senior talents directly. So that in the end Amartek can get suitable top talent to join the team. This balance ensures an environment that fosters both innovation and expertise, making Amartek a dynamic workplace. 
Unlocking Exceptional Talent
Kalibrr's tools help streamline the hiring process and deliver candidates tailored to the company's exact requirements. Of these tools, the "Invite to Apply" feature takes center stage for Amartek. This feature empowers the company to proactively connect with potential candidates who match their specific needs. By utilizing Kalibrr's Resume Search and inviting candidates with relevant qualifications, this targeted approach not only saves valuable time and resources but also adds an element of exclusivity to their talent acquisition efforts. 
On top of that, to find specific talent with specific requirements, Amartek team maximizes the use of "Resume Search Filters". Looking for specific talent in pools of talented IT professionals becomes much precise and faster. Suitable profiles will lead the Amartek team to meet candidates who are expected to proceed to the next process,  which is sending the invites
With Kalibrr's assistance, Amartek ensures that they swiftly spot and engage remarkable talent, driving their organization forward with precision and efficiency
Discovering Fresh Talent and Seasoned Experts on Kalibrr's Platform!
In their quest for exceptional talent, Amartek adeptly combines the search for fresh graduates and senior level experts, recognizing the value of diversity within their team. Their collaboration with Kalibrr, offering a seamless platform with customized candidate searches, proves pivotal to their success. Kalibrr's extensive IT industry database for fresh graduates is a goldmine. 
Notably, Kalibrr offers unlimited access to the talent database as well as invitations that support Amartek in achieving that award. The tools and platform provided by Kalibrr have significantly accelerated their recruitment process, ensuring that they consistently discover fresh talent and seasoned experts, positioning them at the forefront of their industry.



–
Kalibrr is a recruitment technology company that aims to transform how candidates find jobs and how companies hire talent. Placing the candidate experience at the center of everything it does, we continue to attract the best talent from all over, with more than 5.5 million professionals and counting. Kalibrr ultimately connects these talents to companies in search of their next generation of leaders.
The only end-to-end recruitment solutions provider in Southeast Asia, Kalibrr is headquartered in Makati, Philippines, with offices in San Francisco, California, and Jakarta, Indonesia. Established in 2012, it has served over 18,000 clients and is backed by some of the world's most powerful start-up incubators and venture capitalists. These include Y Combinator, Omidyar Network, Patamar Capital, Wavemaker Partners, and Kickstart Ventures.